Help
How it works
The "Share for Discount" Shopify App lets you add a "Get a Discount" button to your store. When clicked, a discount box will be shown to your customers offering them a discount in exchange of liking your Facebook Page or following you on Twitter. After liking/following you the customer will get a Coupon Code that can be used during the Checkout process.

The App is very customizable, you can set the styling, the texts/titles, the coupon code...

Using the "Share for Discounts" App will let you advertise your store easily and effectively!
Demo
A demo store is available at the following URL:
http://share-for-discounts.myshopify.com/products/bicycle
Getting Started
On the App's Admin Panel, you can start making a discount box by clicking the "New Box" button. You will have to type your Facebook page URL, your Twitter Account URL, the Coupon Code and other styling options. While filling the form, you will be able to see a live preview of the "Get a discount" button and the actual discount box.

After filling the form, you can click the "Save" button to create the discount box.
Now, you have to add the discount button to your store:
Add a Share for Discount button to your store
To add the button to your store, you first need to get the button's code. In the Admin Panel, click on the "" icon and a popup will show you the code to copy.
You can copy that code on your Shopify Theme code to show the Discount Button.

For example, you can add the Discount Button above the social sharing links of your store by simply following the next procedure:
After copying the code, go to your Shopify Admin Panel and click on the "Themes" tab.
Click on the "Edit HTML/CSS" menu: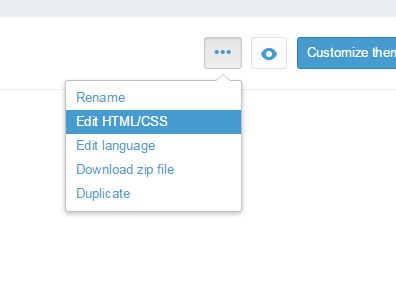 Find the "social-sharing.liquid" file bellow the Snippets folder, and copy the given code at the beggening of the file: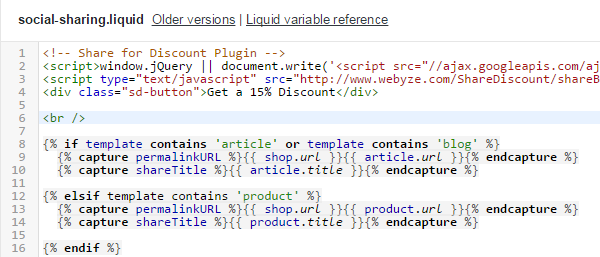 Note that a line break was added after the Discount Button with the <br /> HTML tag.
You can follow a similar procedure to add the button on the cart page.

That's it, the discount button is now on your store!
Feedback & Support
Feel free to leave a review for our App on the Shopify App Store. You can give us feedback and contact us at: contactuser@domainwebyze.extcom